About Kamman
---
5 Decades of Excellence
Kamman Group is a leading global producer and exporter of high quality Ferro Alloy powders, Metal Powders, Nickel Base alloy Wires and Stainless Steel Wires with operations based in India. We cater mainly to Welding Industry worldwide.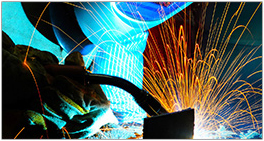 With a legacy of excellence spanning across 50 years, Kamman Group has been a pioneer in the development of quality raw materials for manufacturing of welding consumables.
Today, we are a leading global supplier and specialist, providing quality products and innovative solutions to markets around the world.
Our journey of 5 decades has seen our evolution from being trusted domestic manufacturers to becoming a renowned name in international market with fast growing global presence.
Our Strengths. Our Values
Innovative ideas, quality delivery and dedicated customer centric approach continues to form the core of our business vision even today. We combine years of experience and expertise with reliability, competence and congenial partnerships and alliances to deliver our best.
As a group, we believe in building long-lasting partnership with every customer by meeting their strategic objectives. We serve our customers by partnering with them and understanding their requirements. We are highly valued by our clients for our ability to provide customized, high quality products with consistent quality worldwide.
We are one of the few companies in the world to offer integrated production. Our unparallelled manufacturing strength gives us the capacity to meet challenging market needs, across a diverse product portfolio. Our range is known for its precise composition, purity and safety. With stringent quality systems and state-of-the-art production facilities we provide our customers, critical raw materials in customized sizes and quantities.
Our Global Footprint
Today, Kamman Group serves more than 500 clients in 6 continents. Supported by a team of over 200 employees, a wide distribution network and strong strategic partnerships, we are rapidly expanding our global presence. And in the journey ahead, we aspire to learn as we grow, innovate better and deliver more.